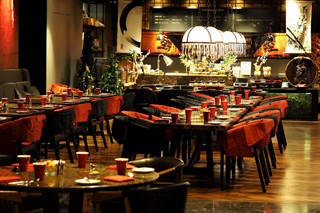 Consumers now have more choices than ever when it comes to buying groceries, whether it be through an online delivery company, a meal kit service or a traditional brick-and-mortar supermarket. However, that doesn't mean that they are turning away from foodservice. In fact, it may be just the opposite.
Restaurant industry sales will reach $798.7 billion in 2017, a 4.3 percent increase from 2016, according to the National Restaurant Association. Despite being the eighth consecutive year of real sales gains, the growth rate represents a dampening by historical standards. Sales in the tableservice segment are projected to reach $263 billion in 2017, up 3.5 percent from 2016. Quickservice and fast-casual sales are expected to total $233.7 billion in 2017, a 5.3 percent gain over 2016.
Rising labor costs and a complex regulatory landscape are some of the concerns of restaurants operators for the coming year. Recruitment and retention of employees is also a top challenge. Technology adoption will keep growing, with challenges in cost and customer acceptance.
Industry analysts Acosta and Technomic are also reporting increased foodservice spending in America. U.S. diners now spend an average $144 per month on food prepared outside the home, $25 more than two years prior, according to their The Why? Behind The Dine report. The monthly spend for Millennials is higher at $202, representing 42% of total monthly food budget vs. 35% for total U.S. diners.
"Along with an increase in spending on food prepared outside the home, the market is also seeing a surge in the variety of dining options available, from different types of cuisine to new ways to eat off-premise, such as ordering delivery from sit-down restaurants," said Colin Stewart, Senior Vice President at Acosta.
Millennials in particular are devoting more of their hard-earned dollars to foodservice. Forty-two percent of their monthly food budget is spent on food prepared outside the home, more than any other generation. In comparison, 35% of GenXers' monthly food budget is spent on food prepared outside the home.
And this is not a trend that is expected to die down. Over the next year, 53% of Millennial diners plan to eat more meals outside the home. More money will also go towards take-out and delivery, as 56% of Millennial and Gen X foodservice dollars are being spent off-premise.
This increased variety of dining options may also be shifting consumers away from the traditional, go-to fast food restaurants. Americans are more interested in pizza and Mexican food than traditional burger and chicken restaurants, according to a survey from MSN. Roughly half the country reports eating fast food at least once a week, and smaller fast-casual chains are seeing explosive growth, reported Business Insider (June 5).
Analysts at MSN attribute the shift to a number of factors. Domino's, Papa John's and Pizza Hut have all led the industry in digital ordering and delivery, while Mexican chains are thriving thanks to the rise of smaller fast-casual chains and the success of a few big names.