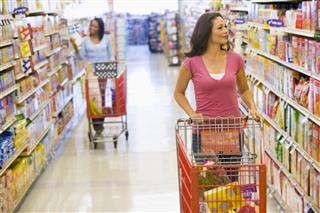 It seems as if supermarket chains and restaurants are constantly being rated as "the top chain in America." In the past two months alone, four different consumer rankings have been released touting their results as finding America's favorite chain or brand.
Harris Interactive unveiled its 2015 Harris Poll EquiTrend List, which lists companies in varying categories including, but not limited to, mass merchandiser, warehouse club, grocery store (divided by region), burger restaurant and casual dining restaurant. It named Publix, Hy-Vee, Wegman's and Costco as the top grocery chains in their regions, Pizza Hut as the top pizza chain, and Subway as the top sandwich shop.
In comparison, Market Force Information's favorite quick-service restaurant chain survey found Papa Murphy's to be the top pizza chain, while Pizza Hut fell at the bottom of the list, only receiving 44% of the votes, compared to Papa Murphy's 71%. It also ranked Jason's Deli as the number one sandwich chain, and placed Subway at second to last.
On the retail side there is a bit more agreement. Consumer Reports found Wegman's to be the top supermarket chain, due to its fresh products. It also listed Publix in the top of the rankings, which is in line with Harris Interactive's findings, and it found Trader Joe's to be among the favorites as well. The University of Michigan's American Customer Satisfaction Index also ranked Wegman's as number one, tied with Trader Joe's. In third came Publix, only three points behind.
Of course all rankings will find slightly different results depending on what the scores are based on (cleanliness, friendliness of staff, prices, etc.), and how the results are tallied, but is seems that consumers are a bit more in agreement when it comes to retail chains than foodservice outlets. This could be because shoppers have a tighter grasp on what they want from a supermarket or mass merchandiser, and have still yet to decide on what makes a good restaurant. It is also possible that consumers are just fickle, and tend change their minds from survey to survey. So when it's all said and done, how much weight should we really put on these rankings?