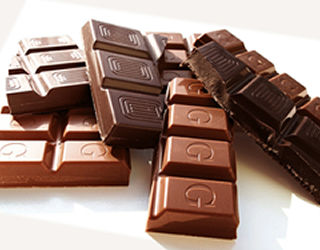 Consumers today are increasingly concerned with improving their health and eating foods that are nutritious. However, that doesn't meant they don't still want the occasional indulgence, and they are more receptive than ever to products that help them meet that balance.
One food industry sector that has noticed this trend is the confectionary industry. A survey from Mintel shows that globally, chocolate eaters are more concerned with taste and emotion than health when it comes to this sweet treat. One third of chocolate eaters in the U.K. say the emotional benefits of chocolate outweigh any health concerns, and half of Polish consumers say they eat chocolate to lift their mood, followed by 40% in Italy, 39% in Germany, 29% in the U.S., 27% in Spain, and 15% in France. One quarter of Spanish consumers even say chocolate is healthy, followed by 21% in Poland, 20% in France and 19% in Italy.
Confectioners are now trying to help consumers meet that balance between indulgence and health by introducing products that are better-for-you. The National Confectioners Association notes some of the trends of 2016 included offering smaller products like "thins" and "barks," adding fruit or nuts to chocolate, and including ingredients such as coconut palm sugar, coconut milk, chia and pumpkin seeds.
Those trends are continuing into 2017. Multiple confectionery companies made a joint commitment to reduce calories in products sold in the U.S. Producers including Mars Chocolate, WM Wrigley Jr. Co., Nestle USA, Ferrero, Lindt & Sprungli, Ghirardelli, Russell Stover and Ferrara Candy Co. committed to ensuring half their individually wrapped products will contain no more than 200 calories within the next five years. Additionally, 90 percent of the companies' best-selling products will have calorie information on the front of the pack.
Over the next five years, the companies will also develop AlwaysATreat.com, a digital resource for consumers to "better understand the unique role that confections can play in a happy, balanced lifestyle." John Downs, president & CEO of the National Confectioners Association, noted its "goal is to reinforce for consumers that chocolate and candy are treats."
A Chicago-based company is also marketing a line of chocolate with a third less calories per serving. Blommer Chocolate Company is using Epogee Fat Replacement in white, milk, dark chocolate and yogurt coatings in its Wonder Line. The fat replacement lowers calories per serving by as much as 34 percent, according to Blommer. Indianapolis-based Choco Finesse developed Epogee, which is produced from reconfigured fats in GMO-free vegetable oils. The reconfigured oil looks, feels, and tastes like fat, reports Crain'sChicago Business.
While Blommer is the first food company to use Epogee, we will likely continue to see other companies making similar low calorie products as Epogee is working to develop other collaborations with food manufacturers.