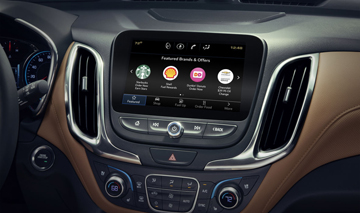 Technology has become a major common thread here at the Food Institute Blog, as the tech industry and the food industry are becoming increasingly intertwined. We have noted how the advent of services like Instacart and AmazonFresh have changed the grocery industry, and how platforms like DoorDash, GrubHub and Amazon Alexa are shaking up the restaurant industry. We've even been surprised by the introduction of what I'll call "extreme convenience" programs, such as Walmart and Amazon's efforts to deliver groceries straight into customers' refrigerators. Now, I'm baffled yet again by the introduction of a new service meant to make the life of the consumer easier.
General Motors Co. is launching an in-car shopping platform which can allow drivers to make purchases, order food and make restaurant reservations. The Marketplace service will be available as an update for 2017 and 2018 model-year cars, trucks and crossovers. It offers a number of possible purchase options through partners at launch, including Dunkin' Donuts, Wingstop, Applebee's, TGI Friday's, IHOP and delivery.com. Starbucks will be added in early 2018.
Aside from ordering food and making reservations at restaurants, users can reserve and pay for parking, book hotels, and find the cheapest gas station. With the delivery.com partnership, drivers can also order online from local restaurants, wine and spirits shops, and grocery stores.
What I find so interesting about Marketplace is not just the extreme convenience of the service, but that it is designed to be used while you're driving, claiming to "minimize manual interactions, helping drivers keep their eyes on the road and their hands on the wheel." In comments to TechCrunch (Dec. 5), GM Director of Global Digital Experience & Connected Vehicles John McFarland said, "Rather than having somebody have to, if they're going to engage on their phone, pull over and get in park while they're doing it, which causes you to lose valuable time, or even worse, the temptation for people to try to use their phone while driving which is something that we definitely don't want… we believe in doing everything we can to make it available while making it safe while in motion."
Presumably, the system will be easier, and possibly safer, to use over time through machine learning, which will identify what drivers buy most often, and when they buy it. For example, it may suggest a coffee at Dunkin Donuts before work or a reservation at TGI Friday's on your way home. However, it will be interesting to see if, over time, services like this become more prevalent and if restaurants will see an uptick in sales as a result of being more ingrained in consumers' everyday lives.