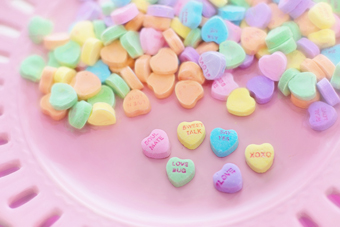 Valentine's Day is less than two weeks away, but even if you haven't planned a romantic evening or bought that special someone a present yet, there is one item that is bound to be part of your celebrations: candy.
The National Retail Federation and Prosper Insights & Analytics expect consumers will spend $1.7 billion on candy for the holiday this year, with total spending expected to reach $18.2 billion. U.S. consumers are forecasted to spend about $136.57 each, a decrease of $10.27 from 2016. Thirty-two percent of shoppers plan to shop at discount stores for the holiday, whole 27% will shop online, 18% will shop at specialty stores, and 15% will go to local small businesses, Aside from candy, those celebrating the holiday are also expected to spend $3.8 million on "an evening out."
Even though spending has been steadily increasing since 2007, the number of people who plan to celebrate the holiday has dropped almost 10 percentage points over the same time period. Principal Analyst for Prosper Insights & Analytics Pam Goodfellow notes, "While fewer are planning to celebrate Valentine's Day this year, millions of shoppers will still make room in their budgets to spoil their loved ones.
It's no surprise that over $1 billion will be spent on candy this holiday, as 94% of Americans say they want to receive chocolate or candy for Valentine's Day, according to the National Confectioners Association. Most of those people will likely be getting their wish, as 70% of consumers plan to give chocolate or candy as a gift, sharing between one to three loved ones.
However, not only gift-givers and receivers will enjoy confections for the holiday. Forty-three percent of people plan to buy themselves a box of chocolate, including 47% of women and 42% of men. Millennials are the most likely age group to buy for themselves.
Focusing on more than just romantic couples may actually be a lucrative tactic for food manufacturers and retailers. Of the half American population that identifies as single, a quarter plan to do something for Valentine's Day, according to data from Bing.com, reported Entrepreneur (Jan. 31). On average, single men will spend about $70 for the holiday, while single women will spend about $40. More people are also buying gifts for someone other than a romantic partner, as when search online for "Valentine's Day Gifts For...," 20% fill in "friend."
People are also not long term planners when it comes to this holiday. Overall, restaurant searches surge at the beginning of Valentine's Day weekend and they peak the day before the holiday itself. Now is also the perfect time for retailers and confectioners to begin marketing efforts, as almost half of consumers say they start shopping for gifts in early February.