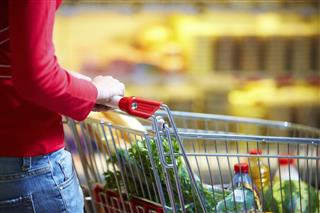 Convenience stores have long been considered a place to get road trip snacks and prepackaged sandwiches, but they are not really thought of as a foodservice or grocery destination. However, that is beginning to change as many chains begin to shift their focus to more better-for-you, fresh options and higher caliber foodservice.
About 93% of c-store operators saw an increase in foodservice category sales for 2015, compared with 83% in 2014, according to the 2016 Convenience Store News Foodservice Study. Almost 90% of chain retailers expect to see their foodservice sales increase in 2016, and none anticipate a decrease. Additionally, 43% of c-store retailers say they added more fresh fruit or vegetables in the first half of 2016; 39% added more packaged salads; and 30% added more cut fruits and vegetables, according to a survey from the National Association of Convenience Stores. Overall, 85% of retailers say they sell fresh fruit or vegetables, an 8-point increase over 2015.
Because c-stores are becoming a bigger player in the food industry overall, it is important to stay on top of the biggest developments in the market. Let's take a look at some of the top stories from the past few days:
Kwik Trip Inc. is rebranding its Tobacco Outlet Plus stores as Kwik Star Express markets that will feature fresh fruits and vegetables, baked goods, fresh meat, sandwiches and entrees, reported Des Moines Register. The chain is joining other stores in the convenience store industry that are relying less on cigarette sales, which was once a top seller. Other chains in Iowa like Casey's General Stores Inc. and Kum & Go are also building bigger stores and carving out more space for fresh and prepared foods.
Kwik Trip is also is planning to build full-sized convenience stores in the area that would top 7,000-sq. ft. The grocery and prepared food sections would have more expanded offerings than its express markets. It plans to open about six full-size convenience stores in the Des Moines area, in addition to the converted tobacco stores.
Alimentation Couche-Tard is buying 53 Cracker Barrel convenience store sites in Louisiana from American General Investments and North American Financial Group. The locations are primarily located in the Baton Rouge area and also include 12 full-service restaurants. All of the stores will be rebranded and operated under the Circle K name. After this transaction is complete, Couche-Tard's Circle K Division of the Gulf Coast Region will include 638 company operated-stores, 8 company owned and dealer operated and 54 dealer owned and operated. The acquisition will aid Couche-Tard's expansion and growth plans for the Gulf Division.
Meanwhile, McLane Company Inc. will supply Circle K's eastern and midwest convenience stores. McLane will begin servicing 1,161 Circle K locations starting January 2017, and an additional 982 locations in January 2018. In addition, it extended its agreement to continue servicing its 1,356 former Pantry locations. McLane provides grocery and foodservice supply chain solutions for convenience stores, mass merchants, drug stores and chain restaurants throughout the U.S. Along with its subsidiaries, McLane Grocery, McLane Foodservice and Meadowbrook Meat Company Inc., it operates 80 distribution centers across the U.S.
Delek US Holdings Inc. entered a definitive agreement to sell MAPCO Express Inc., and certain related affiliated companies, to a U.S. subsidiary of Companía de Petroleos de Chile COPEC S.A. for $535 million. Debt associated with the retail assets, which was approximately $160 million on June 30, 2016, will be repaid at closing. As part of the transaction, Delek will continue to supply fuel to certain MAPCO locations.
Don't forget to check back with our blog regularly and subscribe to our Today in Food newsletter to make sure you are always up-to-date on the latest c-store developments.