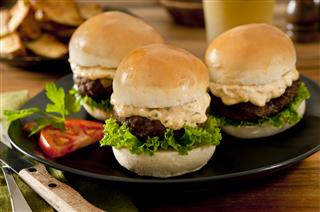 Competition is fierce between hamburger chains in the Japanese market, and each is trying to keep customers and set themselves apart from the others. As more restaurants expand to Japan or re-open in the country, three major U.S. chains each have their own approach to the challenge.
McDonald's has seen its sales falling recently as consumer fears rise about its food safety. In order to combat this, the company is remodeling its Japanese stores with an open kitchen design to give diners more insight into how its food is made. Two stores, in Saitama and Osaka, have been converted and the chain hopes to attract passers-by who may see the activity in the kitchen through the windows. It also plans to cut costs, remodel other stores and close underperforming locations to boost its sales in the global market.
Burger King is on the expansion track, planning to boost its Japanese locations from 93 to 200 by the end of 2017. The company says its popularity derives from the taste of its products and the range of offerings it has, with a mix of local offerings and global menu items. It aims to improve its brand recognition and bring in more customers with media and public attention. Burger King Japan CEO Yasuyuki Murao says it is difficult to be successful in Japan because companies need to appeal to local tastes, while also conveying the image that their food is safe. It is also expensive to open locations because of the high price of real estate, so opening in a high-traffic location while also remaining profitable is a struggle. Murao says Burger King still needs to get more recognition outside of the Tokyo metropolitan area, as most people in the country have never even seen one of its restaurants.
Wendy's has a slightly different approach, as it partnered with First Kitchen, a Japanese chain, to open co-branded locations in Japan. Wendy's Japan chief Ernest M. Higa says the partnership has been working well so far, but his biggest hurdle is getting locations in prime areas. Higa says the move into more upscale outlets and gourmet burgers are both big trends in the U.S., and when it re-entered Japan in 2011 he hoped to introduce Wendy's as a fast casual chain and "develop a new niche," but finding locations that would be inexpensive enough to be profitable proved difficult. This spurred the idea to team up with First Kitchen, which already has 130 locations in the country, with many in high-traffic areas. Higa says if the test continues to work, it will expand to more First Kitchen locations throughout the nation.