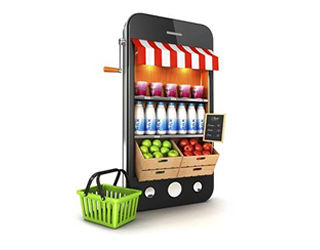 While most brick-and-mortar food retailers are trying to figure out how to compete with e-commerce companies by boosting their online ordering and delivery capabilities, (I'm looking at you Target), online businesses are also finding that they need to incorporate more features that consumers like about physical stores, and provide an even easier experience.
If it wasn't made obvious by Amazon's massive purchase of Whole Foods, it should be pretty clear now that traditional supermarkets still hold a lot of weight in the food industry. Yes, consumers are moving towards more frequent digital purchases, and stores that don't adapt and offer click-and-collect programs or delivery will surely be left behind, but there is also something to be said for the things that physical stores do make more convenient.
Things like shopping together with multiple people or discovering new products that you might want to try can be pretty difficult in an online setting. That's why Boxed unveiled some new features for its platform that aim to give it a leg up against brick-and-mortar stores, particularly warehouse club stores like Costco or BJ's Wholesale. The online bulk food store launched group ordering, which allows multiple people in one household or office to add or delete items to a single shopping cart or invite others to help. It also has a Venmo feature that can automatically divide the price of the order and charge the recipients, reported Business Insider (Dec. 13).
Another challenge with shopping for bulk items online is figuring out whether the items will even fit in your pantry. Boxed's target demographics are Millennials and urban dwellers, who presumably have limited space in their kitchens to store large boxes of cereal and toilet paper, so the app's new augmented reality feature will let customers virtually place the items on their shelf to see if they fit. The service will initially only be available for 30 items, but Boxed may expand to more based on customer response.
Lastly, Boxed is rolling out a Facebook Messenger chatbot to offer order suggestions for customers. It will recommend certain items that it knows users are running out of or suggest new items they might like based on past purchases. It can also answer order status questions and other customer service needs.
Boxed CTO Will Fong notes there is still a lot of improvements that the company can make to the online ordering process, and it plans to keep unveiling new innovations in the future.