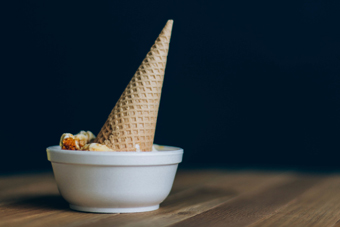 Blue Bell Creameries had a rough year in 2015, after it was forced to recall all of its products due to listeria contamination at its facilities in Texas, Oklahoma, and Alabama. A total of ten people were infected with several strains of Listeria monocytogenes and three deaths were reported. The company went through months of inspections, facility revamps, and food safety training to make sure its facilities were completely free of listeria and safe for production.
Now, over a year later, Blue Bell is dealing with another listeria outbreak, but this time, it originated from a supplier. Blue Bell recalled three cookie dough ice cream products in September 2016 due to the potential for it to contain listeria. It claimed the products were made with a chocolate chip cookie dough ingredient supplied by third party supplier Aspen Hills Inc. Upon identifiying a potential problem through internal testing, it notified Aspen Hills, which then issued a voluntary recall of the products supplied to Blue Bell.
However, just a day later, Aspen Hills put out a statement saying its product tested negative for the pathogen before it was sent to Blue Bell, noting "positive listeria results were obtained by Blue Bell only after our product had been in their control for almost two months." It also said Blue Bell is the only customer that received the cookie dough product included in a separate voluntary recall it issued. Blue Bell responded, saying the boxes of cookie dough ingredient it tested from Aspen Hills were unopened, and testing done both by Blue Bell and the Texas Department of State Health Services confirmed the presence of listeria, reported The Washington Post.
Now, less than a month after Blue Bell announced its original recall, Aspen Hills is recalling the cookie dough it sold to Blue Bell and other food companies because it may be contaminated with listeria. The cookie dough was recalled because the company found lapses in its food safety system, like inadequate documentation and failure to wear proper uniforms, that could have allowed the product to become contaminated, reported Miami Herald. The recall includes 22,000 cases of cookie dough made between July 15 and September 30. A spokesperson for Aspen Hills said no illnesses have been linked to the company's products and none of the cookie dough it is recalling tested positive for listeria. The dough was sold to about 27 food manufacturers, which will be responsible for determining whether products with the dough should be recalled.
Blue Bell already expanded its recall to include all flavors that contain the cookie dough ingredient, reported Chron.com. Even though the products passed Blue Bell's tests, it initiated the recall in response to Aspen Hills' decision. The company suspended purchases of Aspen Hills products "indefinitely" after the first recall in September, and has still not resumed shipments.
Publix Super Markets also issued a voluntary recall for Publix Premium Chocolate Chip Cookie Dough Ice Cream because it contains ingredients supplied by Aspen Hills. The ice cream was sold at Publix stores in Florida, Georgia, Alabama, South Carolina, Tennessee and North Carolina with a sell by date of May 27, 2017.