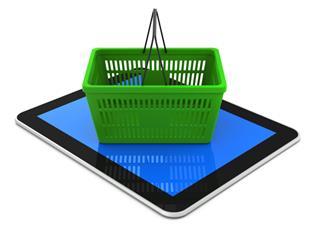 It's no secret that online grocery shopping is a big deal. Companies ranging from Kroger to Walmart to Amazon are all trying to crack the code of what makes the perfect grocery shopping experience, as the competition grows every day. Just last week I profiled three more supermarkets that are entering the e-commerce game, and I'm sure I could do the same thing every week. That's why I'm here to bring you even more updates in the world of digital grocery sales.
Reports are emerging that Amazon is developing three stores under a new grocery concept in Seattle, WA, and California's Bay Area, that would allow shoppers to pre-order online, or from a tablet in-store, before picking up the groceries at a brick and mortar location, reported Forbes. Supermarket Guru Phil Lempert notes Amazon has the potential to be a huge success in the grocery industry, for two main reasons. One is that it is a good retailer for both national brands and small startups because it is easy to work with and delivers on sales. It is also a great way to leverage distribution to other retailers and build a customer base. The second reason is that Lempert believes click-and-collect models will continue to prevail due to the logistical challenges of food delivery. He also notes that Amazon's online marketplace differs from other retailers in that it has superior intelligence to recommend products that shoppers might like, which makes the shopping process even easier for customers.
Recipe websites and meal kits are also driving online grocery shopping. Not only is convenience a factor with these services, but health is also important. Nutrition startup PlateJoy partnered with Instacart to allow users to send their lists to the grocery delivery service and have meals delivered within an hour, reported Dallas Business Journal. PlateJoy builds healthy meal plans and grocery lists based on users' health goals and preferences. Instacart delivers to roughly 25 regions across the country, and PlateJoy plans to extend its partnership to all of those service areas by the end of 2016. Healthcare company MedStar Health Inc. is also launching a similar service with Instacart, called WellRooted, that is aimed at customers with Type 2 diabetes, reported Upstart Business Journal. The WellRooted site automatically connects to Instacart to populate customers' grocery lists and schedule delivery of the ingredients. All the meals are less than 600 calories and have no more than 60 grams of carbs and less than 750 milligrams of sodium.
Instacart is also partnering with Cash & Carry, a wholesale food distributor and food service warehouse that specializes in large quantities of food. Cash & Carry, which is owned by California-based Smart and Final, will partner with Instacart in the Seattle area. John Mathews, vice president of sales and marketing for Cash & Carry, notes the partnership opens up the option of ordering office snacks in bulk or large quantities of food for a party, and having them delivered right to customers' doorsteps. It also gives the retailer's customers, which are mostly small independent restaurants, the option of delivery, which it has never had before, reported Puget Sound Business Journal.
If all of that wasn't enough to keep Instacart busy, it is also expanding its one-hour delivery service to Fort Lauderdale, FL, its second market in the state. Fort Lauderdale residents in 11 zip codes can order from retailers like Whole Foods Market, Publix, Total Wine & More and Petco. The decision to expand was driven by the company's success in Miami, FL.
There are sure to be many more grocery e-commerce developments in the coming weeks, so don't forget to check back with our blog regularly and subscribe to our Today in Food newsletter to make sure you are always up-to-date.