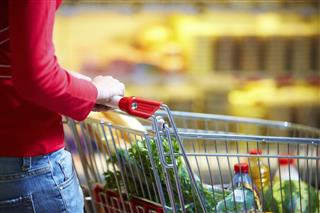 With the increased popularity of natural and organic foods, the lines between various food retailing categories have become blurred. The biggest sellers of organic foods are no longer specialty stores, but traditional supermarkets like Kroger and big-box retailers like Walmart. Even discounters are trying to appeal to modern consumers by making their stores more visually appealing and emphasizing fresh, natural and organic foods.
Aldi is investing $1.6 billion to revamp its stores, with plans to remodel more than 1,300 stores by 2020. It will focus on fresh items, including improving its produce, meat, dairy and bakery sections. The remodeled stores will also feature a modern design, open ceilings, natural lighting and environmentally friendly building materials, including LED lighting and energy-saving refrigeration. Aldi's goal is to deliver on its customers' desire for a modern and convenient shopping experience.
The remodeled stores will also bring renewed focus to Aldi's product lines, including the liveGfree brand of gluten-free food, SimplyNature products featuring many organic items, and a line of baby items under the Little Journey brand. The chain removed added MSG, certified synthetic colors and partially hydrogenated oils from all of its private label food brands, which comprise 90% of the products sold.
While remodeling current stores, Aldi will also implement an accelerated growth path to open 650 new stores across the U.S. By the end of 2018, the grocer expects to operate nearly 2,000 stores from coast to coast.
Analysts note this shifted focus and store revamp may allow Aldi to take a share of the market from specialty retailers such as Whole Foods Market and Trader Joe's, which is also owned by Aldi's parent, reported Bloomberg (Feb. 8). Customers of Whole Foods' new 365 stores may be an especially strong target of Aldi, as those stores are meant to appeal to price-conscious shoppers that are still looking for natural and organic foods. However, analyst Madeline Hurley of IBISWorld notes it is important for Aldi not to lose sight of its original model and keep its current customers that are simply looking for a discount retailer.
It seems Aldi may not be the only one trying to get Whole Foods customers in its stores. Whole Foods itself is struggling to increase sales after six straight quarters of same-store sales declines. The chain plans to close nine stores and increase use of customer data to improve results, reported Fortune (Feb. 8). It has been battling for months to remove its "Whole Paycheck" moniker and attract a younger clientele. Co-founder John Mackey notes the retailer is "doubling down" on its most loyal customers and "examining every aspect of [its] retail operations."
The company expects the closures of the stores, which are smaller, older acquisitions, will improve results. It is also partnering with consumer data company dunnhumby to use its shopper information to improve merchandising and personalize its offers.
As consumers increasingly look for natural and organic products, especially young shoppers, it will be even more important for retailers to stay ahead of the competition and appeal to this demographic. Make sure to check back with the Food Institute Blog to stay on top of all the latest retailer updates.